A Modern Florida Mansion Overlooking the First Course Designed by Golfer Justin Thomas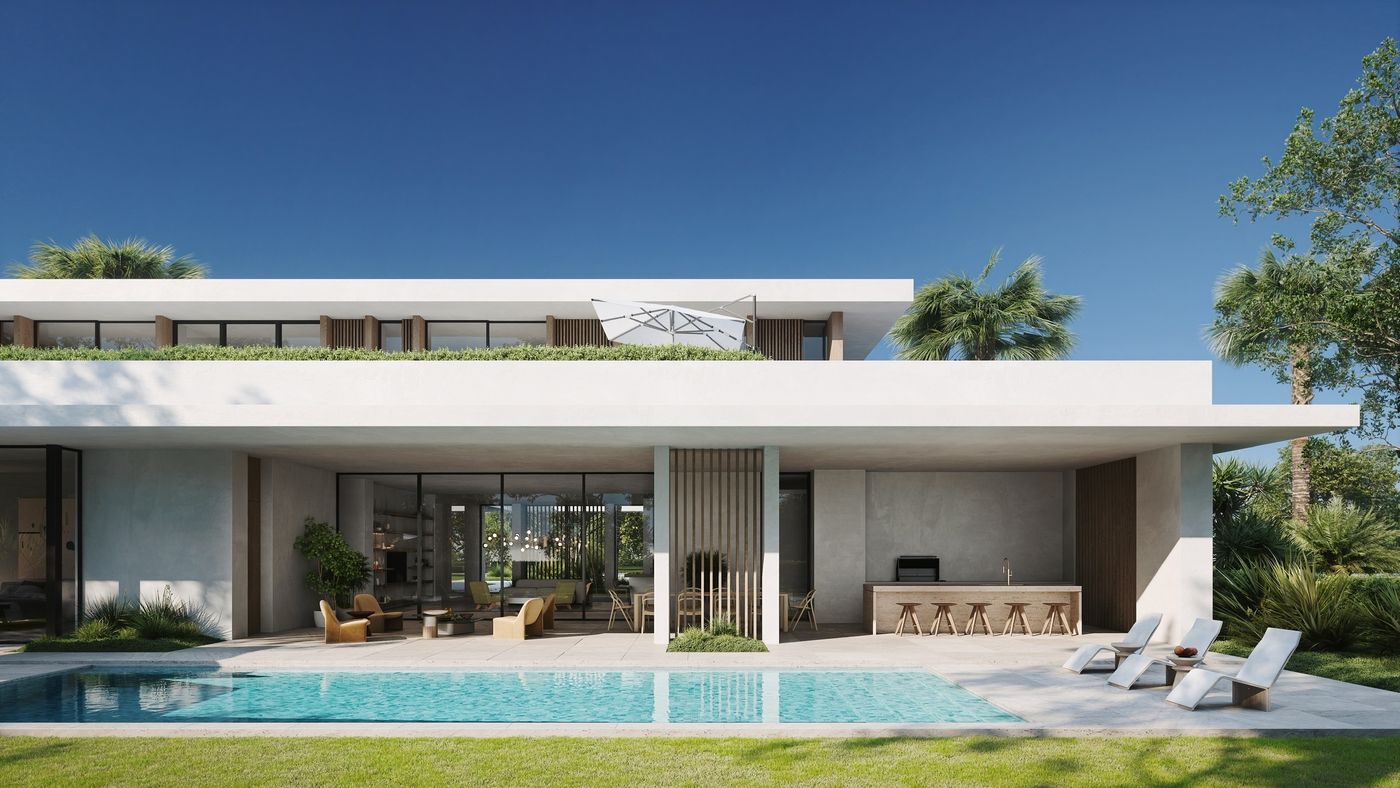 Mansion Global
March 20, 2023
Panther National is the first new gated golf community in Palm Beach County in nearly two decades and is a collaboration between Mr. Thomas and Jack Nicklaus
Listing of the Day
Location: Palm Beach Gardens, Florida
Price: $5.9 million
This unbuilt five-bedroom design known as the Zermatt model is one of 218 luxury homes being developed at Panther National, a new high-end golf community anchored by an 18-hole golf course co-designed by Jack Nicklaus and Justin Thomas.
"It's the first new gated golf community in Palm Beach County in nearly two decades," said Jonas Mikals, director of sales for Panther National. "It's the first ultramodern community in the county ever."
The 392-acre master-planned Panther National development is adjacent to a 2,400-acre conservation area. Founded and developed by Dominik Senn, a former Swiss Olympian, the project will feature designs by architect Max Strang, whose contemporary waterside mansions dot South Florida.
Along with the 18-hole course, Panther National will also have a 9-hole par-3 practice course, golf training facilities, a clubhouse, tennis and pickleball courts, swimming pools, and a wellness and lifestyle center.
Forty properties were released in June, and to date 35 have been sold, Mr. Mikals said. Buyers can choose from 10 different plans, with the ability to customize the interiors. The two-story Zermatt is one of the largest plans, he said.
After a home is sold, construction is expected to take 12 to 16 months, depending on the size of the house, he said. All of the homes are expected to be completed in 2028.
From the foyer of the Zermatt home, residents step into an open-plan great room with 11-foot ceilings. It features living and dining spaces as well as an open kitchen, a tucked-away scullery for prep and a wine room.
From the living room, glass sliders that pocket into the wall lead to a covered terrace with a pool cabana and an outdoor kitchen.
This level also holds the owner's suite, a guest suite, a den, an office and a three-car garage. Upstairs there are two more en-suite bedrooms, a second den and a large terrace that overlooks the pool.
Both of the project's golf courses are being shaped and developed now, with an opening for both set for Nov. 1, Mr. Mikals said. "We've moved 1.5 million cubic yards of dirt for the golf course construction."
Construction on the 30,000-square-foot clubhouse is planned to begin in the fall, with the opening expected in early 2025. The Lifestyle Club is slated to open in early 2026.
So far, most buyers are from the Northeast, Mr. Mikals said. "It's New York, Connecticut, Boston and also Chicago, and some from Tennessee, Texas and California."
For most, this will be a second or third home, he said.
Stats
The 7,344-square-foot house has five bedrooms, five full bathrooms and two partial bathrooms. It sits on a 0.5-acre lot.
Amenities
Community amenities include a Jack Nicklaus Signature 18-hole golf course designed by Mr. Nicklaus and Mr. Thomas, a current PGA tour star; golf training facilities; a 9-hole par-3 practice course; swimming pools; tennis and pickleball courts; a 30,000-square-foot clubhouse with dining, and a lifestyle center with a spa, saunas, and fitness and yoga studios.
Neighborhood Notes 
The city of Palm Beach Gardens, which has more than 30 dining spots, is 10 minutes from Panther National, Mr. Mikals said. "It's a happening place, with fantastic restaurants."
It's a 20- to 25-minute drive to the ocean beaches, 20 minutes to West Palm Beach and 25 to Palm Beach, he said. And it's a 15-minute drive to Palm Beach International Airport.
More: One of the World's Most Influential Business Leaders Just Listed Her $12.4 Million Miami Condo
Agent: Jonas Mikals, director of sales, Panther National
PANTHER NATIONAL GROUNDBREAKING: PARTNERSHIP WITH WILLSTRONG CONSTRUCTION & DEVELOPMENT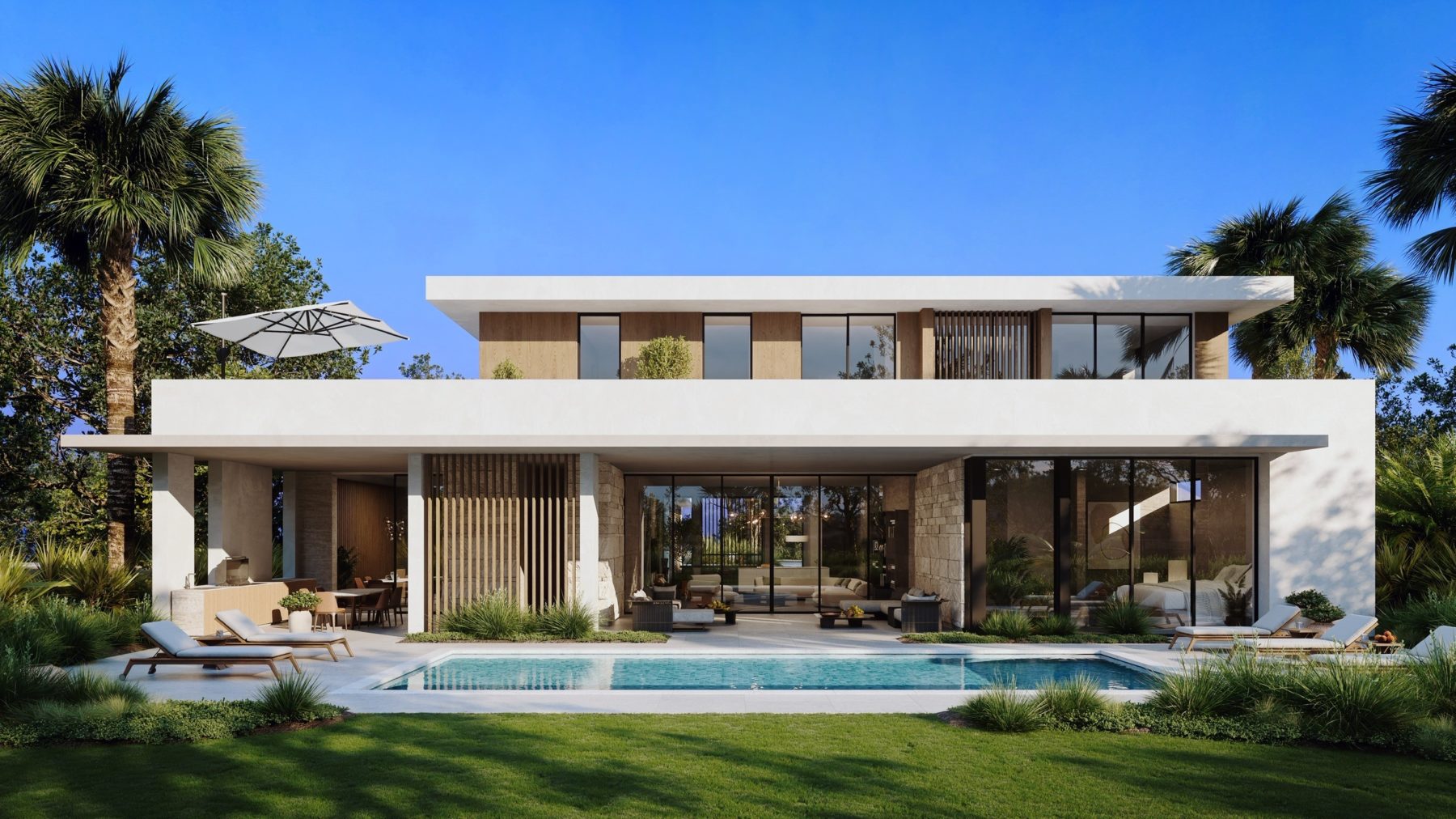 PANTHER NATIONAL MARKS GROUNDBREAKING OF SIGNATURE HOMES, PARTNERSHIP WITH WILLSTRONG CONSTRUCTION AND DEVELOPMENT
WillStrong will build Panther National's Max Strang-designed Signature homes.
PALM BEACH GARDENS, FL (February 28, 2023) – Panther National, the visionary new private golf club and modern estate development, announced today the groundbreaking of its signature homes designed by renowned Miami architect Max Strang. Jupiter-based WillStrong Construction and Development will complete the construction of these 170 luxury residences as Panther National's exclusive builder of the signature homes.
"We are honored to have been selected as Panther National's exclusive builder for Max Strang's Signature homes," says WillStrong CEO and Founder, Jason Willoughby. "Our team's reputation for delivering high-quality homes will complement the vision for this exclusive golf course and community created by its founder, Dominik Senn."
Willstrong will bring to fruition Strang's vision for environmentally modern estates over 170 half-acre and third-acre home sites, of which 32 are currently under contract totaling more than $200 million. The residences combine ecologically sensitive construction products along with sustainable building practices – an area of expertise for WillStrong. Prospective homeowners can choose from six unique floorplans ranging from 4,200 to more than 8,000
square feet. The floorplans offer three to six bedrooms across one or two stories and all residences will feature a two, three, or four-car garage with electric car charging units, space for a golf cart, an outdoor kitchen, and private pool. The first homes are expected to deliver in 2024. Sales are managed exclusively by IMI Worldwide Properties.
"WillStrong Construction and Development is a natural partner for Panther National, given the team's passion for innovation and sustainability coupled with a high standard for luxury custom building and commitment to excellence," says Frank Weed, CEO of Panther National. "They share our vision for a new perspective on a private golf club community and we look forward to working with them on the construction of Panther National's Signature Max
Strang-designed homes."
Panther National's residential offerings will be complemented by a Championship golf course designed by golf legend Jack Nicklaus and PGA Tour star Justin Thomas, a striking modern Clubhouse, performance training and practice facilities, Par 3 short course, a 33,000- square-foot putting course, wellness and lifestyle club, and more. The Championship and Short courses will debut in the fall of 2023.
For more information on Panther National, please visit www.panthernational.com or follow @panthernational. For more information about sales, please contact IMI Worldwide Properties at www.imiliving.com. Renderings are available here (credit: Panther National) for download.
About Panther National:
Panther National is the first modern golf and lifestyle community to debut in Palm Beach County in nearly two decades. Developed by founder and president Dominik Senn, Panther National combines 218 custom, modern estates designed by world-renowned architect Max Strang with a Jack Nicklaus and Justin Thomas signature championship golf course and premium community amenities and social facilities. The development broke ground in February 2022 with a second sales phase expected to be released in March. For more information, visit www.panthernational.com.
About IMI Worldwide Properties:
IMI Worldwide Properties is an innovative and integrated real estate brokerage firm focused on new and emerging luxury real estate. For over 30 years, IMI Worldwide Properties has created some of the most recognized luxury real estate communities around the world. For more information, please visit www.imiliving.com.
About WillStrong Construction and Development:
WillStrong Construction & Development is an industry-leading construction and development partner focused on providing integrated solutions for landmark projects. The Willstrong team leverages its experience, well-earned reputation, and a full suite of services to deliver projects at an unparalleled level. For more information please visit www.willstrongdevelopment.com.
Panther National by Max Strang
Panther National, Palm Beach Gardens, Florida
Being unveiled late this year within the private high-end community of Palm Beach Gardens, Fla. is the first modern, luxury South Florida golf course community of its kind. The development will be dotted with 218 custom estates designed by acclaimed environmentalist architect Max Strang, next to a Jack Nicklaus-crafted golf course.
Surrounding the development is the 2,400-acre preserve Avenir Conservation Area, which serves as a wildlife corridor linking a number of natural preserves extending from the Atlantic Ocean to Lake Okeechobee.
Set aside as a preserve by the Avenir community, it's undergoing a restoration that will bring back historical native Florida ecosystems. "Panther National's vision puts environmental sustainability at the forefront of everything we do," says Dominik Senn, founder and president of Panther National. "We've found many of our buyers appreciate this close proximity to nature and consider the bordering conservation area a key selling point of the Panther National Community."
Archived Articles
February 23, 2022, Golf.com Justin Thomas — major champion, 14-time PGA Tour winner and seventh-ranked player in the world — now has another title to add to his resumé: golf course architect. At a groundbreaking ceremony Tuesday in Palm Beach Gardens, Fla., Thomas was on hand to mark the start of construction on his first design…
February 22, 2022, CNBC.com A golf legend and a one of the PGA's hottest young stars are teaming up to create a luxury golf community in Palm Beach County, Florida. Hall of fame golfer Jack Nicklaus, 82, and 28-year old PGA Tour star Justin Thomas broke ground Tuesday at Panther National in Palm Beach Gardens….